By: LazerKim              Kim Hyun Joong again has been nominated at the Star of the Year 2012 and voting polls shall be conducted until January 13. This polls has been going on actually, and have been voting silently although I have mentioned about this polls in one of my articles. Now we got 10 days to vote and so I would like to invite everyone to join in the voting. Kim Hyun Joong had been sitting at the first rank under the Star category for weeks until last night he was being swept to second place so fast with a slim gap of over 1,000 votes and as of this morning  KHJ is behind by over 2,000 votes.!
There were eight categories in this popularity voting polls and I have noticed that among all the nominees, it's Kim Hyun Joong and Lee Jung Ki has the highest votes of over 100,000 vote compare to the other nominees which barely reached 70,000. Come to think of it, many of the stars being nominated has huge fan bases specially the idol groups that came to my surprise have not reached half of votes for the two stars Kim Hyun Joong and Lee Jung Ki!! Is this competition just the two of them or what??
STAR OF THE POLLS
Hyun Joong has always been nominated in many polls which only goes to show that these poll organizers knows how popular Hyun Joong is and how pro-active his fans are in voting.  But at the same time I hope these organizers have realize that Hyun Joong fans also closely monitoring the voting systems. I would admit, last night as I was monitoring the voting polls in my observation a robot is trying to manipulate the system, which I sincerely hope I'm wrong!!
I don't know what's going on but as I always say wherever and whenever Hyun Joong's name is being displayed on the voting polls as nominee, we are given the liberty to vote. Again this is not obligatory among fans, and those who are enthusiastic in voting may vote. I'm just here to inform about the existence of the voting polls conducted and encourage fans to join in and vote. Manipulation may be irritating but we just have to play their game, fine, what have I got to lose I'll simply be voting for Kim Hyun Joong and enjoy the challenge of racing with the robots!!
BUSY BEE!
Let's keep our cool, as we give time to Hyun Joong in voting in this polls while waiting for him to come out from his cocoon since his event activities in Japan is just around the corner. I happen to came across this post from twitter pertaining Hyun Joong's schedule for January.                                                               (Lestari, thanks for sharing!)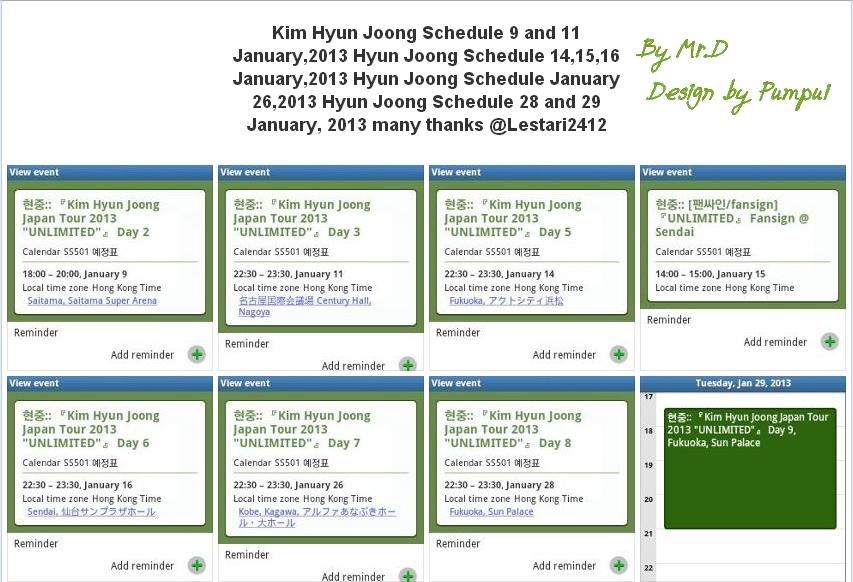 Well, we have so much to look forward to about Hyun Joong as he'll rock every concert stage in Japan this month of January. I'm still on holiday with article writing but I would just want everyone to know that I'm still here dropping by from time to time if needed. It surprises me that many new fans are doing their marathon reading with my previous articles and I would like to welcome all the new readers, thank you for sparing time reading all about Kim Hyun Joong.
This is one best way of keeping him close to us while knowing more about the guy, how a great star Kim Hyun Joong is, deserving our love and support as always.  He is one bright star who is completely irresistible in so many ways.
For the fan voters, let's enjoy the challenge in voting, let's turn the negative to positive vibe and go on voting everyday till the end. Remember, we are voting because we know Kim Hyun Joong deserves to win the Star of the Year, in fact he is the Star of all Seasons. No doubt about it, no one else deserves that sit on top except Kim Hyun Joong.
Don't you miss this guy?? Well, I do!! So irresistible!
                                                                                                      LazerKim here writing
Photo credits as tagged, Ms.D thanks!
Here's how to vote:   Star of the Year 2012 
1. Scroll down to the category STAR.   (http://ent.jkn.co.kr/star/2012award.html)
2. Click the button below KHJ picture.
3. Scroll down, click on the left box. The page changes, then click on OK. Then you'll see the voting score.
Go VOTE for Kim Hyun Joong!! Fighting!!    http://ent.jkn.co.kr/star/2012award_result.html