By: LazerKim                Kim Hyun Joong sends his love to his fans on Christmas through this message below, written and posted last night before leaving Chengdu China. Hyun Joong boarded his flight back to Seoul late last night at around 12 midnight that even it was rather late at night his fans waited at the airport lobby to see him off. He was pretty much in the good mood smiling at everyone at the airport. He arrived safely at Incheon Airport at dawn and to my surprise there were some fans waiting to welcome him back home even at wee hours!!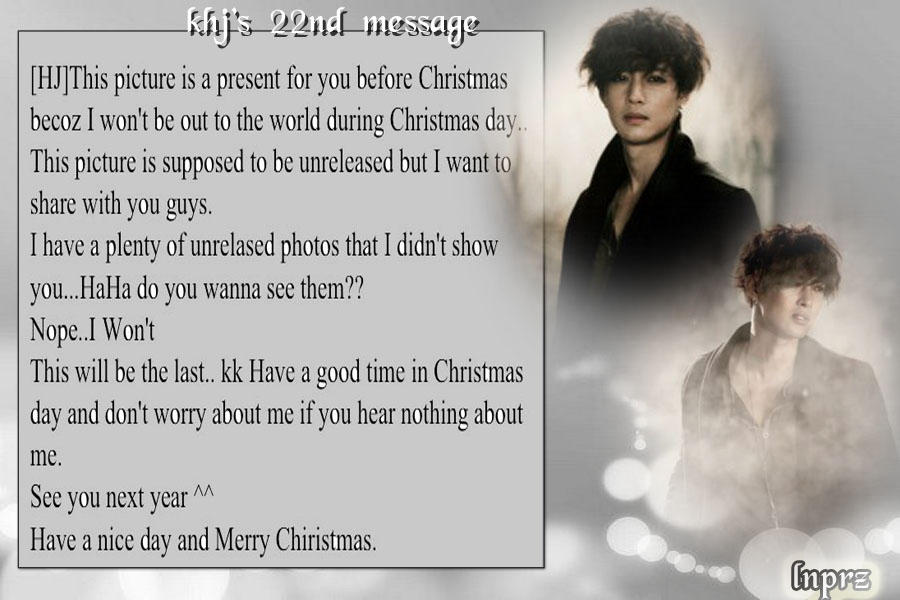 LOVE LETTER
Hyun Joong has been very thoughtful writing to his fans again to send his Christmas greetings to everyone! He was already anticipating after getting busy with his album promotion which will start tomorrow prior to its official release on December 12, to greet us in advance. It's good to know that he's coming home before Christmas day but he'll be out there on his album promotion on December 21,22,23, and probably going back home on the 24th. This is good since we can still spend the Christmas season with him before we get busy with our family gathering on Christmas eve and Christmas day as traditionally celebrated in most Catholic countries.
Well, now Hyun Joong already knows that his fans get worried about him every time we don't see him or not heard about him! That no matter how I convinced myself that he's doing fine whenever in his hiding place, it just can't be helped not to worry about him, or we simply miss the guy during his absence! I would admit if I don't hear anything about him, I start wondering what's he's cooking up or what he's doing, specially if he's been out of our sight for long! I always wonder what he's working at, since we have known the guy to be so workaholic.
PICTURES
Hyun Joong mentioned about his release pictures from his album that I really wish he can release more. Many fans including myself are fond of collecting Hyun Joong's pictures and by simply looking at those pictures can already make me smile, bringing in a real good mood for the rest of my day, specially whenever he's not around. I think we all have the same routine after work, school or whatever daily routines we have in the real world, it's been our daily routine to check on Hyun Joong's updates. And if there's nothing, we sometimes spend time with watching old video clips or simply looking at his pictures. Spending a part of my time with Hyun Joong everyday is such a joy and stress reliever!
I was staring at this picture below last night, which I think was taken before his departure back home. Hyun Joong seem to be playing with his cellphone and looking at him here, he's like a kid being pre-occupied with games! I missed his straight hair that looks like a teenage baby face! I think he had enough rest this time, since he looks fresh as he arrived at the airport just about to board his flight last night, than the other day when he arrived China he looks a bit haggard.
WINNER
Hyun Joong was all over the local print media news in China today for winning The Most Popular Overseas Artist at the Miguhui Music Festival held in Chengdu Sports Center last Saturday December 8th. It was said that there were about 30,000 audience attended the event celebrating its 6th year presentation. The event was star studded with other elite Chinese celebrity stars, I'm just not sure if there were other Korean stars invited as guest performer in the event.
This is not all, we have kept Hyun Joong's rank No.1 at Yahoo Buzz until this day which is the last day voting. The Yahoo Buzz organizer had already confirmed Hyun Joong's attendance on the awards night to be held in Hong Kong on December 16th Sunday evening. Keep up with your votes this will be our last chance to vote for Hyun Joong as much as we can, the voting polls shall be closing at 18:00 today, so we still have some hours left to vote and let's give our best shot in voting more.
At Yahoo Buzz, I'm so glad the Robot did not attack as he kept doing so in the previous poll voting!! Well, there's also something good about exposing the wrong doings to keep the public being aware of it! Although I still have not read any news about KCEA as Hyun Joong was nominated for Hallyu Star Awards which brought the voting polls to a lot of confusions, nevertheless, we know very well Hyun Joong deserves to be the top and the best Hallyu Star ever nominated for this category. Period!!
I read a post last night that Hyun Joong's weibo account which is a Chinese web site, has increased its followers currently at 1.4 Million and continues to gain even more followers. After the event at Chengdu, last Hyun Joong gained over 30,000 followers in just one night, that took the fans from twitter is a great shock, since a lot of his fans do monitor incoming followers from Hyun Joong's account! Can you beat that?? This is another sign that Hyun Joong indeed shows his popularity boost.
ALBUM LAUNCHING
Hyun Joong starts with his album UNLIMITED promotion tomorrow at Shibuya Tokyo, Hyun Joong would be there for the launching event as a huge screen set to show Music Videos of his new Japanese songs and an interview shall also be conducted tomorrow. I guess Hyun Joong will be creating a festive mood in Japan the next coming days as he always does whenever he has an event! This time Hyun Joong shall be in designated venues to attend the fan sign event as a part of his album promotion. This is really great and I can't help feel envy his Japanese fans who are lucky to have this chance!! Now I really want to fly to Tokyo if only I could!! *sigh*
I would like to further encourage other fans to support Hyun Joong's album that can be purchased through the online websites posted below. You may also place pre-orders bulk buying. Last year's Christmas I bought some Breakdown albums on local purchase as my Christmas presents to my friends who are music lovers. This year I'm lucky that my purchase shall be included at the current pre-sales count on Hyun Joong's album UNLIMITED since I'll be doing the same thing as I did last year giving Hyun Joong's album to the same friends I have given last year and some additional relatives from U.S. whom I found out lately that they are Korean drama addicts!!
SHARING MUSIC
This is also one way of supporting Hyun Joong's album at the same time we can share his music to others who are non-fans of Hyun Joong who are music lovers too. You may never know it can also help in gaining fans for Hyun Joong by simply introducing his music to others. People may have different taste in music, but for me, it depends on my mood since being a music lover can easily appreciate good music melody. I think this is a way the Korean Wave have won the hearts of the global community regardless of the language but music is a universal language.
Again let's pull our acts together that I'm sure all of us fans have the same goal of pushing Hyun Joong on top of the Oricon Music Chart. If we have an extra budget then maybe we can purchase even one more CD album unit of UNLIMITED to share with our friends or love one. This is like hitting two birds with one stone, supporting Hyun Joong's album at the same time sharing his music as our Christmas presents to our friends. Actually this way is so convenient for me that I don't need to think of presents to my friends or go shopping. This I think would save an effort in buying from shopping malls. Or for those who resides in Japan, the more it would be easier and your purchase surely be counted at the chart.
I'm proud of Kim Hyun Joong's UNLIMITED album and I'm proud to share his music compilation as an achievement of his hard work, all year round effort in bringing out the best in his music. As the old folks says, Christmas is giving, and love is sharing! Let's share Kim Hyun Joong's music for this Christmas!
                                                                                                        LazerKim here writing
Photo credits as tagged, Ms.D thanks!  Fan arts by Ms. Lina Perez thanks!
VOTING POLLS DAILY RESULTS
Yahoo Buzz:     Dec. 10, 2012
Nominees:                          No. of Votes Yesterday                        No. of votes Today 
Kim Hyun Joong                       1,272,123                                  1,318,936
Super Junior                                683,277                                      717,695
Jang Geun Suk                              86,578                                       86,288
Luo                                                 50,042                                       50,904
Park Yoo Chun                              49,273                                        50,321
KEEP VOTING FOR KIM HYUN JOONG
YAHOO BUZZ>(http://hk.promotions.yahoo.com/buzz2012/index.php#!/vote/cat=3&id=79)
UNLIMITED PRE-ORDER
NOTE:   For pre-order of Kim Hyun Joong Unlimited go to Yes Asia.com
YES ASIA LINK click here>(http://www.yesasia.com/global/search/kim-hyun-joong-unlimited/0-0-0-bpt.48_q.Kim+hyun+joong+unlimited-en/list.html)
CD JAPAN  – if you get to 1st page just search for KHJ – they have also Calendar and books:
Link click here>(http://www.cdjapan.co.jp/search3.html?q=kim+hyun+joong&media=&r=any&step=20&order=score)