By: Lazerkim                Kim Hyun Joong was awarded The Most Popular Overseas Artist at the Miguhui Music Festival Awards last night December 8th. Congratulations! Hyun Joong is the most deserving foreign artist for this award as he is being loved by the Chinese fans which is growing bigger everyday. We fans from every corner of the world are very proud of Hyun Joong and most specially his huge number of fans in China prided by the award given to Hyun Joong as he is honored to have received the Most Popular Overseas Artist.
Hyun Joong first was seen at the red carpet in dashing black tuxedo, I seem to noticed that Hyun Joong was the only celebrity with a body guard behind him!! Well, who wouldn't be, after being mobbed at the airport!! LOL! Hyun Joong looks so handsome in his tuxedo but I can't help to noticed he looks a bit tired and haggard last night. I think he been quite busy preparing for his next concert series to be held in Japan.
Hyun Joong performed Please and Breakdown with his Artmatic Dancers that his Chinese fans truly enjoyed seeing him on stage performed again and of course everyone is proud of his award of honor. After this event Hyun Joong shall be proceeding to his album launching first release shall be be on December 12th, and promotion which will start on the 11th in Shibuya Japan. This album is the most anticipated and many Japanese are already waiting for the up-coming events to be held in their country. Wow! lucky Chinese and Japanese fans that they have all the chances in meeting Hyun Joong!!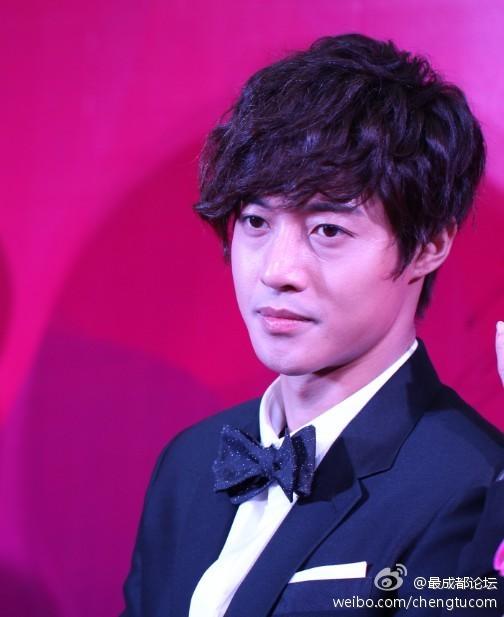 MEMORIES OF CHINA
Hyun Joong has been a frequent guest star in China as a solo singer since this year start in January 5th he was first invited at the Chinese New Year Special episode Year of the Dragon Lunar Year Celebration in Shenyang China. In the news last January, it was said that Hyun Joong was the first Korean Star to be invited to feature in the celebration together with the other elite Chinese stars. Hyun Joong performed Lucky Guy in the Lunar Year Celebration.
I remember that day in January, Hyun Joong wrote to his fans on the day of his departure to China before he went to the airport. Hyun Joong wrote as if he's writing a letter to his friend writing details like, he woke up early, he took a shower, packed his bags getting ready going to the airport, ate ramen for breakfast and here he goes writing to his fans!! He first greeted them warmly on Lunar Year and followed by a warning to his fans not to go to the airport to meet him!! He warned them that if he sees his fans at the airport he will not mind them, not even smile or greet as if he had see no one!!
It was so funny that he even said "do not be surprised if I'm indifferent at the airport, so don't go, instead celebrate the day with your family." Hyun Joong's message circulated all over the internet that every fan read! And as soon as Hyun Joong arrived the airport, the lobby was crowded by his fans waiting for him, that he even had a hard time to get inside the lobby airport filled with his fans!! In short, his fans did not listen to his message, and Hyun Joong had the brightest smile ever seen at the airport!!
I can only guess what he had on mind, "I told you not to come!!" But obviously, he was very pleased to see his fans at the airport even it freezing cold that day!! Hyun Joong also received a lot of letters and presents as if he went shopping for the goodies he had received at the airport from his fans!! And when he arrived in Shendang China, the bigger crowd of fans were there to welcome him on his arrival!! What can be done, it was only at the airport that his fans has the opportunity to hand in their presents and New Year greetings!!
STAR EVENTS
From the Lunar Year Celebration, Hyun Joong has been getting in and out of China, I remember he was also invited to participate in a fashion show, Tokyo Girl's Collection held in Shanghai China as Hyun Joong performed Lucky Guy in March 27th. The venue obviously was filled by Hyun Joong fans since the sea of green was spotted at the audience gallery, as if it was Hyun Joong's solo concert event!!
After this fashion show event, the most significant in China was Hyun Joong's series of Asia fan meeting concert which started in May and June as Hyun Joong visited four big cities in China. All of which were successful events that Hyun Joong even gained large scale of Chinese fans. He even marked a history in Chengdu as the very first Korean star ever performed a concert as his first stop in the China series of concert. I remember that Hyun Joong 's concert when he was surprised by his Chinese fans from Chengdu as his fans wore the panda hats and sung the birthday song for Hyun Joong!
And I still couldn't forget the incident at the airport as Hyun Joong was requested to go back to the airport in Chengdu at the middle of the night since he was not escorted at the immigration to get through with the proper arrival process for formalities!! He was even spotted dancing while waiting at the immigration area!! His fans were still there at the airport lobby waiting for him, that they did not leave him even at wee hours of dawn making sure he's safe and Hyun Joong finally greeted them at the main lobby of the airport to thank them for waiting. His Chengdu fans were really very warm and thoughtful to Hyun Joong as he is to them.
CHINA TV SHOW
In October Hyun Joong was invited by the popular Chinese TV variety show Happy Camp to be a guest in the show. The show was recorded in October and was broadcast in November 17th gaining the highest TV viewer ratings, breaking the record among the other Korean stars who guested in the show. It was on this episode as Hyun Joong guested in Happy Camp, beating the TV viewer ratings of Jang Geun Suk and Lee Min Ho as both also guested in the show this year, Hyun Joong gained the highest ratings ever!
Hyun Joong had an enjoyable TV guesting at Happy Camp and so with his fans all over the world enjoyed watching him at this game show. I think this was the only variety show Hyun Joong had participated with this year since he's been hopping around Asia and really had a very busy schedule with his concert series and filming for City Conquest. Happy Camp is a Chinese long running variety show which has been airing for the longest 15 years. My hat off to the variety show and the hosts were awesome having Hyun Joong being well treated as a star that they too enjoyed Hyun Joong's playful side of his personality.
I think this was also one memorable event to Hyun Joong fans in China, from the day Hyun Joong arrived in Changdang China, he stayed at a villa where his fans can openly see his every movement although they were well behaved! Played like mothers to Hyun Joong making sure he eats and somewhat monitoring his every moves in one day visit!! But at night time after his recording, Hyun Joong requested them to go home and take a rest since it was very late at night, and his fans obediently took his advise and went home. The following morning when Hyun Joong is just about to go back home to Seoul, his fans were at the villa even it was raining to see him off.
BIG STAR
By the rolling events in China transpired this year for Hyun Joong, everyday his Chinese fans has been growing in numbers  in the short span of period, he is the most deserving of his fans lasting love and support. Hyun Joong strong charisma kept winning wherever he goes at any time. It's so amazing how people loves him and truly support his every activities and projects. His popularity growth can be seen in large scales whether in the chart or even at the events that Hyun Joong has been attending with, he is being followed by a large crowd of fans.
Hyun Joong indeed has a natural aura that people are being drawn to him and stayed with him. This is quite obvious as time goes by the more and more people increasing substantially following him. As I always say, it is not enough to watch Hyun Joong perform on stage or act on his drama projects because there are a lot more interesting about this guy aside from his multiple talents and perfect looks. It is Hyun Joong as a person that people also follow him loyally.
FAN EFFORT
From this day on, we shall be seeing more from Kim Hyun Joong and while we look forward for more, let us not forget that there is still the Yahoo buzz as we have today and tomorrow to vote. Let us make use of these remaining days in voting more for Hyun Joong. We have now reached over a million votes and it would be nice to have more votes to assure Hyun Joong rightful spot for him to remain at the No.1 rank. His contender the Supper Junior at No.2 has a huge fan base and their votes are coming in so fast, and so we will beat that speed in voting. I appreciate Hyun Joong's fans who have been active voters, it would be great if we can spend these remaining days join together in full force to vote at Yahoo Buzz. Go go go Aliens fighting!!
And also for those who have not placed their pre-orders on his upcoming album UNLIMITED I would like to encourage everyone to grab a copy of CD album. Yesterday someone uploaded one of the songs again but it's good it was soon deleted from YouTube. It doesn't help at all if fans would be doing this uploading even I do understand the intention is just to share with other fans, but it is vital that Hyun Joong UNLIMITED album sales would assure his place at the top of Oricon Music Chart. The competition is at the pre-order web site or at the record stores and not at YouTube!!
NUMBER ONE ONLY ONE
Let us maintain with our goal in putting Hyun Joong's name at the top of the chart, and we can only do this by supporting Hyun Joong's album. The pre-orders shall remain and you may order any time, but it would be great if we can do this before the official album release on December 12th so that we would be able to hit the first day count at Oricon. If our time and budget allows us to purchase the UNLIMITED much earlier, the better.
I sincerely do hope we can give this album to Kim Hyun Joong, his first full album, a memorable Christmas present to him by pushing him to the top No.1 at the Oricon Music Chart. Wouldn't that be great?
I'm sure Hyun Joong will have a happy Christmas from us as he intentionally shares this album with us for this year end, since the album contains the compilation of his work of music through out this year. And so let us make this a memorable 2012 for him as it is to our ONLY ONE Kim Hyun Joong.
                                                                                                 LazerKim here writing
Photo credits as tagged, Ms.D thanks!                     email (lazerkim69@yahoo.com)
VOTING POLLS DAILY RESULTS
Yahoo Buzz:     Dec. 9, 2012
Nominees:                          No. of Votes Yesterday                        No. of votes Today 
Kim Hyun Joong                      1,145,153                                   1,272,123
Super Junior                               577,531                                      683,277
Jang Geun Suk                             85,159                                       86,578
Luo                                                49,598                                       50,042
Park Yoo Chun                             48,790                                       49,273
KEEP VOTING FOR KIM HYUN JOONG
YAHOO BUZZ>(http://hk.promotions.yahoo.com/buzz2012/index.php#!/vote/cat=3&id=79)
UNLIMITED PRE-ORDER
NOTE:   For pre-order of Kim Hyun Joong Unlimited go to Yes Asia.com
YES ASIA LINK click here>(http://www.yesasia.com/global/search/kim-hyun-joong-unlimited/0-0-0-bpt.48_q.Kim+hyun+joong+unlimited-en/list.html)
CD JAPAN  – if you get to 1st page just search for KHJ – they have also Calendar and books:
Link click here>(http://www.cdjapan.co.jp/search3.html?q=kim+hyun+joong&media=&r=any&step=20&order=score)